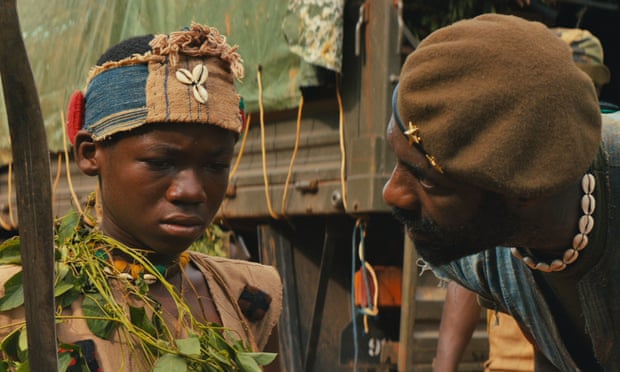 As war reaches their unnamed African village, a young boy's (Abraham Attah) mother and younger siblings make their narrow escape for refuge while his father and older brother are gunned down by the pillaging invaders. Scared and alone, he is picked up by a rebel militia, led by a sadistic, imbalanced commandant (Idris Elba), where he begins his life as a child soldier. Even with its unthinkable, harrowing subject matter,
Beasts of No Nation
both generally resembles films of the same ilk or feels like pictures we've seen before (
War Witch
and
City of God
spring immediately to mind). Director Cary Fukunaga successfully adapts Uzodinma Iweala's novel into a nightmarish, intelligent though overlong film which could have benefitted from tauter editing and loses steam in its second while typically making fantastic usage of shooting locations. Elba delivers a towering, complex, and menacing performance while child actor Attah does quite well with a extremely demanding role.
*** out of ****